Layout development
Functional and stylish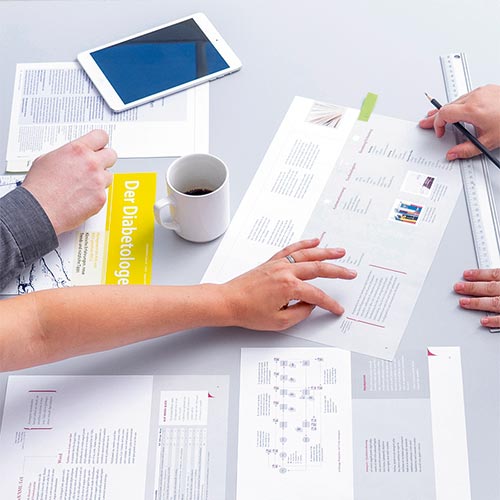 When it comes to communicating an idea effectively, form plays an important role. It is crucial in creating the space needed to allow ideas to shine. We work with you to develop a concept that visually captures what you want to convey.
We devise stylish forms of expression inspired by the zeitgeist to realize the design of your corporate message. We produce high-quality design templates for business documents and presentations and give your corporate magazines and books a contemporary look.
We also revise existing layouts, or develop them based on your ideas, to breathe new life into your corporate communications. We brush them up without impacting your brand recognition by skilfully working our concepts into your Corporate Design.
As early as the layout development stage, our experienced graphic artists and designers factor in all the technical demands involved in typesetting, as well as those of possible output formats such as EPUBs or accessible PDFs. Thus, you can be confident that your design ideas will be not only convincing on the drawing board, but also featured to their best advantage in the final product. As experts in single-source publishing, we provide you with data compatible with multi-channel production that allows cross-media communication of your content across all channels.