Electronic publishing
Quality, know-how, and accessibility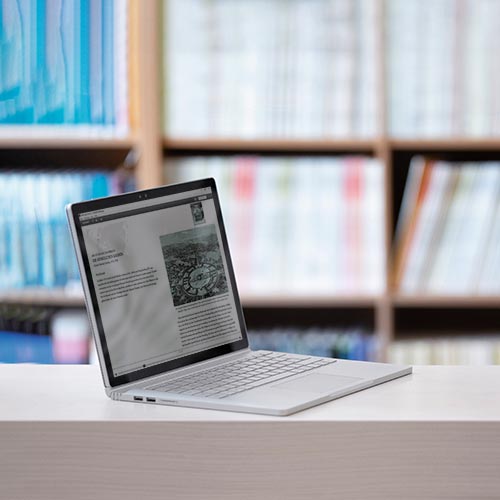 We first began converting electronic books when the EPUB standard was still in its infancy. Today, e-book conversion is one of our core services, alongside typesetting and developing specific publishing tools.
We convert e-books from raw typesetting data, print data in PDF format, and structured data such as XML. We digitize and convert backlist titles which are originally only available in printed form. We also support publishers with the conversion of enhanced e-books and integrate interactive content, animations, read-aloud, and audio and video data.
We individually check and revise older, externally produced e-books to bring these up to date with the latest standards and ensure compatibility with current devices. And last but not least, we provide e-book converters and checking tools from our transpect framework for the automation of e-book workflows.
A key theme in this context is accessibility of e-books. Our EPUB converter ensures that metadata, text, and navigation are accessible for people with visual impairment. Other features such as alternative text for graphics, fallbacks for math content etc. can also be integrated. The same applies to the creation of accessible online PDFs from LaTeX or InDesign that conform to current PDF/A standards.
We track the progress of e-book formats and readers and are actively involved in discussions regarding their technical development. Our development department tests new e-book features on different readers and implements them in prototypes or customer projects. Our customers benefit from our pioneering work and our commitment to ongoing technical optimization.
Overview of services
Conversion of e-books from Adobe InDesign, QuarkXPress, PDF, XML, and other formats

Conversion of enhanced e-books: Interactive content, animations, read-aloud, and audio and video data

Support of all standard e-book formats: EPUB 2 and 3, PDF, Amazon KF8, optionally also with fixed layout, retrodigitization and conversion of backlists

Upgrading old e-books to new e-book standards